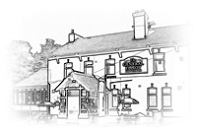 About us
Back in May 2008, we took the bold move to take on the challenge of reviving the Elliot!  After eighteen months of hiding behind closed doors and shutters on the windows the place was in need of some serious attention.  After four months of blood, sweat and tears – a new roof, windows and floors, we were finally at the stage of removing our hard hats and opening the doors.
20th August 2008 was the date we decided to let life begin at the Elliot once more and let me tell you it has just got better and better.
Our very own Head Chef and co owner Kirk Garbutt has over twenty years of chefing experience to share with his customers. He spent nine years gaining experience in top class restaurants in Aix en Provence in The South of France.  He has searched for many years to find an establishment to display his chefing talents, and coupled with his wife being from the local area, The General Elliot was the perfect place.  They have always dreamed of owning their own restaurant and now their dreams have come true. Their fabulous team apply their talents every day to ensure that every customer that passes through their doors has a most enjoyable experience.  
Come and experience the Elliot and I guarantee you will return.